It all started out as a hobby. Making wine in Tim and Janet's apartment of all places!
One year we got to the point that we were hauling a ton of grapes up the elevator, renting an industrial crusher from Judy's Deli, and every closet in the place was full of fermenting wine.
At that point we knew something had to change. For one thing – we needed more space!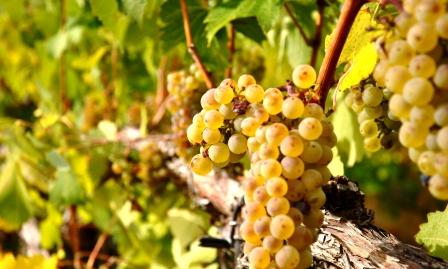 In 1984, with grape atlas in hand, we went looking for more space not just to make the wine, but to grow some grapes as well.
Because wine-making in the apartment had taught us two very important lessons.
– No amount of shampoo will ever get the smell of fermenting grapes out of a rug.
– The quality of the grapes is the most important component in making good wine. We knew we had to grow our own.
By 1987 we had decided on the Naramata Bench after looking virtually everywhere else in the southern Okanagan. We felt our grapes were going to thrive best with the soil combinations, late day sun and cooling breezes off the lake.
We bought some property on a crooked road that the kids nick-named Rattlesnake Road, and planted our first blocks of Pinot Noir and Chardonnay. This was to become the basis for our style of intense full bodied reds and whites – but we didn't know that yet.
Our friends thought we were crazy to want to live so far out of town. (It was 15 km!)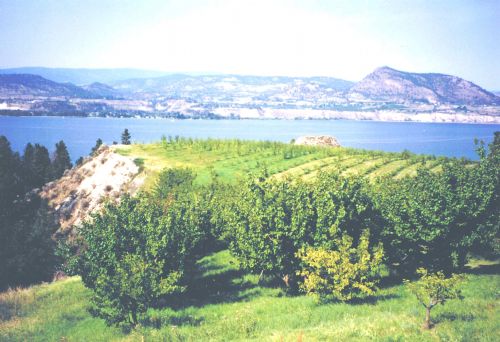 There were only a few others growing grapes on the Naramata Bench then, and most of our neighbours were fruit farmers. There weren't any wineries yet either, the licensing regulations for them didn't yet exist!
Wine making was still a hobby, but it now included grape farming, and we had moved up in the world – instead of an apartment we were making wine in a garage!
With our backgrounds in geology and accounting it was natural for us to apply science to farming our grapes, and we became fascinated with the process of matching grape varietals to the widely varying microclimates on our lands in Naramata.
We liked nothing better than to successfully harvest a full flavoured varietal that we had been told would never thrive or ripen in Naramata. It really underlined the variety and versatility of the Naramata terroir.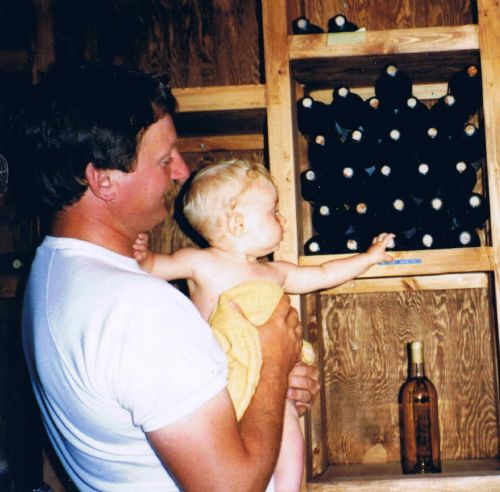 We were having fun growing and ripening what was then believed to be impossible grapes for personal use and we hadn't considered opening a winery at this point.  There wasn't actually anything to consider as there was no legislation in place that would allow small wineries in BC.
That was soon to change as several BC grape growers, including ones from the Naramata Bench, lobbied the provincial government for legislation to allow small winery operations similar to what existed in Europe.
When the government passed the legislation we looked at it and thought, "Well, we'll never be able to drink all this wine ourselves."
We were the third license granted on the Naramata Bench and the twenty-third in the entire province.
Now we needed a name.
It was 1991 and the old railway right of way ran through Naramata, but it was not the well used, well maintained and well known trail that it is now.
The tracks had been taken up but the old rail bed was rutted and potholed and like many locals we would drive our pickups on it only to access the back country.
But running as it does across the top of Naramata, the old rail line affords some spectacular views of the Naramata Bench and the lake beyond.  We realized that from the old rail bed was the one place that we could see all our properties on the Naramata Bench.
So we named ourselves Kettle Valley Winery after the railway that had first tied Naramata together with the outside world, and which was the one place from which we could see all our vineyards at the same time.
Part of our wine making garage became the tasting room. That is still our tasting room to this day, but with the construction of a larger dedicated winery building nearby, the rest of the garage became the home for shipping, accounting and administration. The trucks are still parked outside!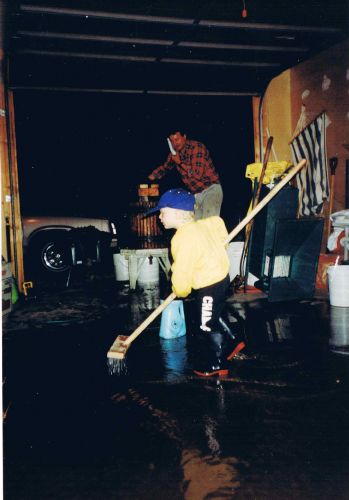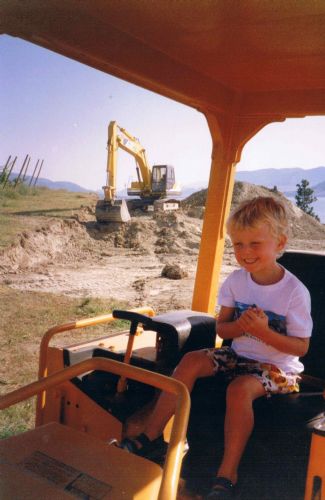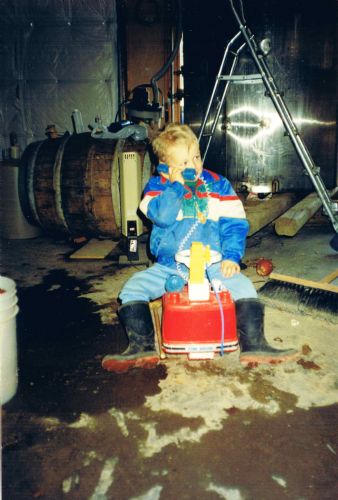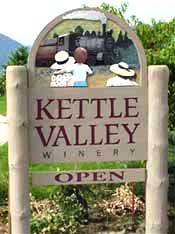 As our winery has grown so has our philosophy of wine making, drawing from the experiences we've had right back to wine making in Tim's apartment. We have come to understand that for us, the quality, individuality and fully ripe flavours of the grapes are the factors that are most important to us in our wine making' and our wines.
To that end we have been constantly learning, experimenting and pushing the envelope. And in our minds at least, we have been getting better and better. We hope you agree.
We started out wine making as a hobby. And twenty years after our first vintage it really still is, because if you think about it, a hobby is something you love to do – and for us that is making wine.